Stage Events
Stage Event (Atrium)
An event stage will be set up in the West Exhibition Hall Atrium, offering appealing content to draw in weekday visitors. The main events are listed below.
Event stage by Fuji TV (2 times each weekday, 30 minutes each)
Car of the Year Japan Final Voting Session and Award Ceremony (Dec. 3 (Sat) 13:00 - 18:00)
Talk show with support from United Arrows (Dec. 8 (Thu))
Talk event by job hunting site "Rikunabi" (Dec. 4 (Sun))
Eco driving related talk show, held by the Agency for Natural Resources and Energy (Dec. 6 (Tue), from 11:00 and from 14:30)
Public broadcast by TOKYO FM
Minna no Motor Show (Dec. 3 (Sat) 18:00 - 20:00)
Event stage by "CLIPS" student web broadcasting group (Dec. 10 (Sat) 11:00 - 12:30)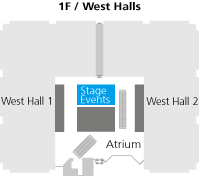 "COTY DAY" 2011-2012 Car of the Year Japan Final Voting Session and Award Ceremony
The final voting session of the 2011-2012 Car of the Year Japan Executive Committee (composed of 35 media companies) and award ceremony will be held at the Tokyo Motor Show venue, titled "The Car of the Year Japan Day (COTY DAY)". By selecting the best car of all those announced for sale within Japan over the course of the year, bestowing a title on it, and honoring the company responsible for its development and manufacture, the Car of the Year Japan promotes further improvements in performance, quality, and safety, while contributing to the advancement of the automotive industry. This year, in order to make the event more open, and to welcome viewing by the general public, the voting session will be broadcast to the Atrium Stage, where the award ceremony will then be held.
Date and Hours
Saturday, December 3


13:00

Panel Discussion (Atrium stage)

14:30

Awards to 10 Best Cars (Atrium stage)

15:30

Car of the Year Ballot Counting (Conference Tower 6F Rooms 605 and 606 officials' area)
Ballot Counting Broadcast (Atrium stage)

17:30

Car of the Year Executive Committee Special Award (Atrium stage)

Venue
Tokyo Big Sight Conference Tower 6F, Rooms 605 & 606 and Atrium Stage
Special Talk Show Produced by United Arrows
A talk show, with the theme of "Driving Life", will be held, featuring guest Ai Tominaga, top international model and television celebrity.
The discussion will touch on ideal car travel destinations, fashion to wear while driving, and memorable drives, looking at driving from a woman's perspective and a fashion perspective, and highlighting the fun of car life. A mini-fashion show and drawing for UA products will also be held. (Dec. 8 (Thu))