Visitor Services
Sale of Japanese Motor Vehicles Guidebook and Eco-bags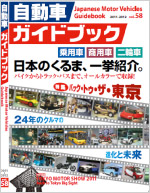 Japanese Motor Vehicles Guidebook will be on sale at 3 locations (East Hall 2, East Hall 5 and Atrium). Along with the always popular cloth Eco-Bags (¥250) and Nikkan Jidosha Shinbun's official guide to the Show, the Tokyo Motor Show Guide 2011 (Supervision: Japan Automobile Manufacturers Association, Inc.; ¥500), the only complete almanac of domestically produced vehicles, the Japanese Motor Vehicles Guidebook 2011-2012 (Vol. 58), will be available for purchase. Also, for the duration of the Show, holders of Japanese Motor Vehicles Guidebook coupons can exchange their coupons for a copy of the Guidebook at these locations.
<Outline of the Japanese Motor Vehicles Guidebook 2011-2012 (Vol. 58)>
"CLIPS" Student Web Broadcasting Groups
The "CLIPS" Internet broadcasting group is made up of students from the Tokyo University of Technology, as well as students from universities such as Shirayuri College, Takushoku University, the University of Electro-Communications, Ferris University, and Meiji University. CLIPS will operate a temporary broad-casting station from the Tokyo Motor Show, creating shows directed at the younger generation, who have grown away from cars, and sending out information from the heart of the Tokyo Motor Show.
Tokyo Motor Show Report
CLIPS members will interview designers and developers from a students' perspective. These interviews will be filmed and released on the CLIPS website. Recording will primarily take place on Press Days, and after editing, each will be released on the website.
Stage Event
These events, held at the Atrium Stage, will include a quiz show in which high school students compete using their knowledge regarding cars (qualifying rounds will be held in advance, with the playoff held during the show), as well a debate regarding cars by young people that will be held on Saturday, December 10 from 11:00 to 12:30.
Children's Drawing Event "Bokura no Kuruma"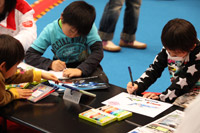 Children attending the show will be able to draw "the car I want to drive when I grow up" on sheets of drawing paper. The finished drawings will be scanned and uploaded to the web, alongside video of them working on their creations. This event will be limited to 100 children per day (50 children each morning, and 50 each afternoon). Participating children will be presented with commemorative Tokyo Motor Show goods. This event will be held on December 3 (Sat), 4 (Sun), 10 (Sat) and 11 (Sun).
Newspaper and Magazine Corner
The Newspaper and Magazine Corner (13 companies, 15 booths) is located in the Atrium and sell a wide variety of automobile-related newspapers, magazines and technical books in addition to DVDs, CD-ROMs, calendars and planners.
Infant/Child Care Center
The Infant/Child Care Center is located near East Hall 1 entrance on the 1st floor of East Exhibition Hall and provides a place for nursing and diaper changes as part of efforts to improve hospitality for family visitors. Babysitting services are also available for children from 3 to 6 years of age.
Opening Date
and Hours

Dec. 2 (Fri) (Special Guest Day) 12:30 – 18:00
Dec. 3 (Sat) – Dec. 11 (Sun) Monday - Saturday 10:00 – 20:00
Sunday (except Dec. 11) 10:00 – 18:00
Dec. 11 (Sun) 10:00 – 17:00

Venue
Near East Hall 1 entrance on the 1F of East Exhibition Hall
Facilities
Cribs, toys, hot water for bottles etc.
Staffing
Weekdays: Staff of 6; Weekends and holidays: staff of 8

Reception

Parent's IDs are required for the babysitting service for children from 3 to 6 years of age. The service is available for no more than 2 hours. (Free)
Postal and Delivery Services
The service corner, located in the 2nd floor Entrance Hall, offers Yu-Pack and Sagawa Express delivery services. The three FamilyMart locations within the venue offer Yamato Transport delivery services.
ATM Services
The 2nd floor Entrance Hall ATM corner contains Mizuho Bank, Tokyo Star Bank, Seven Bank, and Japan Post Bank ATMs. The convenience stores located in and around Tokyo Big Sight also offer ATMs which can be used with cards from partner banks such as major city banks.
Rest Zone / Welfare Facilities
The Rest Zones with temporary restaurants and shops will be set up at the Vehicle Bodies Outdoor Exhibition Space, which is located outside of the west side of the East Exhibition Hall East Hall 1, the West Exhibition Hall's Outdoor Exhibition Space and Rooftop Exhibition Space, and the Event Plaza on the 2nd floor. 3,000 seats will be placed for resting. 500 priority seats for elderly visitors, which have been very well received at past shows, will be set up to prepare a total of over 6,000 seats including the benches of the show venue.
First Aid Center
First aid centers will be set up at two locations (one in East Exhibition Hall and the other in West Exhibition Hall). Nurses will be on standby during Show hours to treat sudden illnesses and injuries. The first aid centers will be open from November 30 (Wed) to December 11 (Sun) during Show hours.