Official Merchandise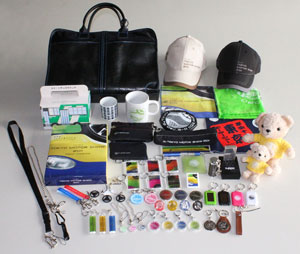 Official merchandise for the Tokyo Motor Show (planned)
(Designs and items may differ from the picture shown above.)
Official 42nd Tokyo Motor Show 2011 merchandise will be on sale at 3 official merchandise shops located around the venue (East Hall 1, East Hall 4 and Atrium).
Along with commemorative products featuring the Tokyo Motor Show logo mark such as key holders, mugs, t-shirts, and hand towels, a varied lineup of items will be available, such as solar powered LED light key holders, glow pens, bags made from recycled tires, and more. This year's official merchandise shops will also feature hands-on product sales areas, where visitors can make their own commemorative T-shirts and medals (stamped).
A selection of Tokyo Motor Show merchandise will be available for purchase through the Tokyo Motor Show official website after the conclusion of the show for a limited time for individuals who were not able to purchase merchandise during the show.
(Product names and prices subject to change)
Exhibitor premium merchandise
In addition to the official merchandise which has been sold at the show since the 30th Tokyo Motor Show in 1993, for this year visitors will also be able to purchase premium exhibitor merchandise, which was sold at the 40th Tokyo Motor Show 2007. The 40th show, in 2007, was the first to offer premium exhibitor merchandise and was a resounding success. At this year's show, premium merchandise will be available from exhibiting passenger car, commercial vehicle, and motorcycle manufacturers, sold in official merchandise shops in order to further improve shop running efficiency.
The premium exhibitor merchandise product lineup will consist of a selection of premium items which are only available from shops directly owned and operated by these manufacturers, priced from several thousand to several tens of thousands of yen.
Premium Exhibitor Merchandise Participating Brands
Official J-POP Compilation Remix Album "TOKYO MOTOR SHOW COMPILATION REMIX"
The Tokyo Motor Show's official J-POP compilation remix album, "TOKYO MOTOR SHOW COMPILATION REMIX", will be available for purchase.
The idea for this album sprang from the "Minna no Motor Show" U-stream program, created independently by radio DJ Piston Nishizawa to build anticipation for the Tokyo Motor Show.
The album's concept is "Driving Music", and it features not only a selection of signature songs and hit songs by a rich line-up of artists, remixed by Piston Nishizawa, but also radio show patter between songs, giving it the true feeling of driving music.
It will be sold in CD shops, online shopping sites and the official merchandise shops located at the Tokyo Motor Show venue.
TOKYO MOTOR SHOW COMPILATION REMIX
–The 42nd TOKYO MOTOR SHOW 2011 OFFICIAL ALBUM Remixed by Piston Nishizawa–
Release Date: November 30, 2011
Price: ¥2,500
Distributor: Sony Music Associated Records, Inc.
Contents: Official Tokyo Motor Show compilation remix album, with songs selected and remixed by radio DJ Piston Nishizawa
Includes: "Tokyo Motor Show 2011 Original Sticker" (first pressing only)
Songs: 17 tracks in total including 6 MC & Jingle tracks (remixed songs are as listed below)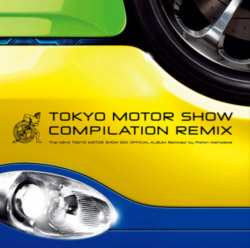 Album package

Sticker exclusive to the first pressing
Every Little Thing/ For the moment [Acoustic version]
The Elephant Kashimashi / Oretachi no Asu
CRAZY KEN BAND/ GT
KOME KOME CLUB/ Roman Hikou
GOING UNDER GROUND/ STAND BY ME
The Gospellers / Hitori
Shikao Suga / Yoakemae
Skoop On Somebody/ eternal snow [remix]
TUBE / Umi no ie
Mika Nakashima / STARS
PUFFY / Kore ga Watashi no Ikiru Michi