The 42nd Tokyo Motor Show 2011 & TOKYO FM & J-WAVE
Triangle Collaboration:
"What kind of car will change the world?"
-" Mimi (ear) cars" will collect your ideas -
JNL-2011-32
September 21, 2011
The Japan Automobile Manufacturers Association, Inc. (Chairman: Toshiyuki Shiga), and the FM radio broadcasters TOKYO FM Broadcasting Co., Ltd. (TOKYO FM, President: Michiomi Fukita) and J-WAVE, Inc. (J-WAVE, President: Toru Ogasawara) have produced "Mimi (ear) cars" equipped with huge ears as part of its publicity campaign for the 42nd Tokyo Motor Show 2011.
The Mimi car will listen to the opinions of a wide range of people mainly around Tokyo, under the theme "What kind of car will change the world?" The collected comments will be shared on radio and a website.
Prior to this, we will hold an unveiling and departing ceremony for the Mimi cars on September 26, 2011 at the Otemachi Sankei Building square.
We hope you will take the time out of your busy schedules to attend and cover the unveiling and departing ceremony. The outline is below.
Mimi Car Press Conference, Unveiling and Departing Ceremony Outline
Date and time
Monday, September 26, 2011, 11:30 (approx. 30 minutes)
(Press registration from 11:00)
Place
1F plaza stage, Metro Square, Tokyo Sankei Building 1-6-1, Ootemachi, Chiyoda-ku, Tokyo
Attendees
Takayuki Horiuchi TOKYO FM personality; Reo Tsuchiya J-WAVE reporter;
Toshihiro Iwatake Executive Director and Secretary-General, the Japan Automobile Manufacturers Association, Inc.
Mimi Car Operation Outline
Mimi cars
Mimi cars mounted with giant three-dimension FRP sculpted ears measuring maximum 140 cm in width and 210 cm in height will visit areas around Tokyo to collect people's comments with IC recorder-embedded ears.
Programs
TOKYO FM (FM 80.0 MHz) "Synchro No City" (Mondays-Thursdays 4:00 PM – 6:45 PM)
J-WAVE (FM 81.3 MHz) "CIRCUS CIRCUS" (Fridays 4:30 PM – 8:00 PM)
Website for collecting voices
A website will be opened jointly by the FM radio stations. Content will include recordings collected by Mimi cars at their destinations, reports with photos, and text/voice postings to the site.
Website: http://www.mimicar.jp (Open September 26, 11:30 JST)
Image of "Mimi car"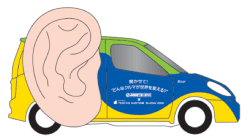 J-WAVE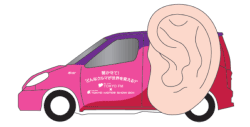 TOKYO FM