The 42nd Tokyo Motor Show 2011
Official J-POP Compilation Remix Album
"TOKYO MOTOR SHOW COMPILATION REMIX"
JNL-2011-38
October 25, 2011
The Japan Automobile Manufacturers Association, Inc. (Chairman: Toshiyuki Shiga) is pleased to announce the release of an official Tokyo Motor Show J-POP compilation remix album titled "Tokyo Motor Show Compilation Remix".
The idea for this album was developed in the Ustream program "Minna no (everyone's) Motor Show," which is aired independently by radio DJ and racing driver Piston Nishizawa to generate excitement for the Tokyo Motor Show. Mr. Nishizawa proposed the album to Tokyo Motor Show organizer Japan Automobile Manufacturers Association to bring it fruition.
The concept of the album is "drive music." Mr. Nishizawa selected and remixed hit songs and signature songs by a rich line-up of J-POP artists and deftly inserted radio show-type elements between the songs to create an album with an unmistakable drive groove.
This can be purchased at music CD shops, on-line shopping site and official merchandise shops in the Tokyo Motor Show venue.
TOKYO MOTOR SHOW COMPILATION REMIX
-The 42nd TOKYO MOTOR SHOW 2011 OFFICIAL ALBUM Remixed by Piston Nishizawa-
Release Date: Wednesday, November 30, 2011
Price: ¥2,500 (tax included)
Distributor: Sony Music Associated Records, Inc.
Contents: Official Tokyo Motor Show non-stop remix compilation album, with songs selected and remixed by popular DJ Piston Nishizawa
Includes: "Tokyo Motor Show 2011 Original Sticker" (first pressing only)
Web site: http://www.tms-compilationremix.com (Open in early November)
Songs:17 tracks in total including 6 MC & Jingle tracks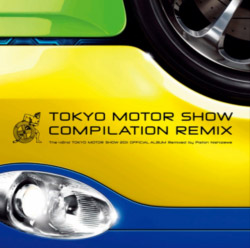 Album package

Sticker exclusive to the first pressing
Every Little Thing / For the moment [Acoustic version]
The Elephant Kashimashi / Oretachi no Asu
CRAZY KEN BAND / GT
KOME KOME CLUB/ Roman Hikou
GOING UNDER GROUND / STAND BY ME
The Gospellers / Hitori
Shikao Suga / Yoakemae
Skoop On Somebody / eternal snow [remix]
TUBE / Umi no ie
Mika Nakashima / STARS
PUFFY / Kore ga Watashi no Ikiru Michi
*In Japanese alphabetic order by artist name
*17 tracks in total (11 remix, MC and Jingle tracks)