The 42nd Tokyo Motor Show 2011
Opening Events to be Held on First General Public Day
JNL-2011-45
November 21, 2011
On Saturday, December 3, the first general public day of the 42nd Tokyo Motor Show 2011, the Japan Automobile Manufacturers Association, Inc. (JAMA, Chairman Toshiyuki Shiga) will hold opening events that include a car parade and a talk session with the participation of top executives from JAMA member companies.
To commemorate the Tokyo Motor Show's return to Tokyo for the first time in 24 years, many top executives will drive their signature cars in an opening parade on the Center Promenade near Tokyo Big Sight, which is the Tokyo Motor Show venue.
After the parade, a talk session will be held on the Atrium stage located in the show venue. Executives from five JAMA chair and vice chair companies (Nissan, Toyota, Honda, Mitsubishi, and Mazda) will assemble on stage for this event.
Opening Parade
Date and time
9:00-10:00, Saturday, December 3, 2011 (Reception for the press to start at 8:45)
Place
Yume-no-Ohashi (Center Promenade, Ariake and Aomi, Koto-ku)
Content
A total of about 50 vehicles to participate (including vehicles not in the market yet); the top executive of each manufacturer is slated to drive the lead car.
Participants
Toshiyuki Shiga (Chief Operating Officer, Nissan Motor Co., Ltd.)
Akio Toyoda (President and Representative Director, Toyota Motor Corporation)
Takanobu Ito (President & CEO, Honda Motor Co., Ltd.)
Osamu Masuko (President and Representative Director, Mitsubishi Motors Corporation)
Takashi Yamanouchi (Representative Director and Chairman of the Board; President and CEO, Mazda Motor Corporation)
Koichi Ina (President, Daihatsu Motor Co., Ltd.)
Yasuyuki Yoshinaga (President, Fuji Heavy Industries Ltd.)
Toshihiro Suzuki (Representative Director and Executive Vice President, Suzuki Motor Corporation)
Yoshio Shirai (President, Member of the Board, Hino Motors, Ltd.)
Guest
Terry Itou
Parade vehicle highlights
Approximately 50 vehicles total, including NISSAN GT-R First model (2007), LEXUS LFA Nürburgring Package, Honda Goldwing (2011), Mitsubishi Mirage (first generation model), Mazda CX-5, Daihatsu Copen (2002), Subaru (LEGACY TOURING WAGON EyeSight demo car), Jimny (first generation car), Hino Dutro Hybrid (2011), and other commemorative and historic cars.

Talk Session
Date and time
11:00-12:00, Saturday, December 3, 2011 (Reception for the press to start at 10:45)
Place
Stage in the Atrium (Tokyo Big Sight West Exhibition Hall)
Content
A talk show with top executives of five JAMA chair and vice chair companies (Nissan, Toyota, Honda, Mitsubishi, Mazda) together with commentator Terry Itou. In addition to sharing personal anecdotes about cars that are memorable to them, they will responde to voiced requests and anticipations of cars collected by the Mimi (ear) Cars*.
Participants
Toshiyuki Shiga (Chief Operating Officer, Nissan Motor Co., Ltd.)
Akio Toyoda (President and Representative Director, Toyota Motor Corporation)
Takanobu Ito (President & CEO, Honda Motor Co., Ltd.)
Osamu Masuko (President and Representative Director, Mitsubishi Motors Corporation)
Takashi Yamanouchi (Representative Director and Chairman of the Board; President and CEO, Mazda Motor Corporation)
Guest
Terry Itou
*Mimi Car : In collaboration with TOKYO FM and J-WAVE, "Mimi (ear) cars" equipped with huge ears are widely collecting comments from the public under the theme "What kind of car will change the world?"
Opening Event Venue (registration from 8:45 AM)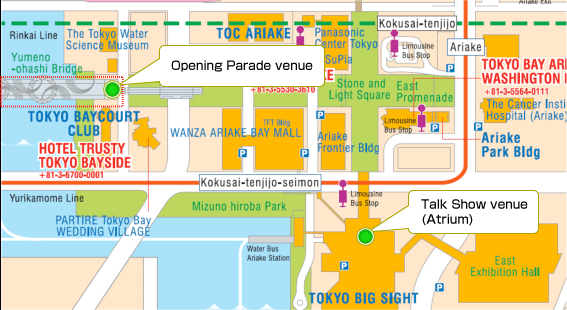 The 42nd Tokyo Motor Show 2011 Outline]
Organizer
Japan Automobile Manufacturers Association, Inc.
Dates
Dates
Dec. 2 (Fri.) - Dec. 11 (Sun.), 2011
10 days
Press Days
Nov. 30 (Wed.) and Dec. 1 (Thu.)
2 days
Special Guest Day
Dec. 2 (Fri.)
1 day
General Public Days
Dec. 3 (Sat.) - Dec. 11 (Sun.)
Monday - Saturday: 10:00 - 20:00
Sunday: 10:00 - 18:00
Dec. 11 (Sun): 10:00 - 17:00
9 days
Venue
Tokyo Big Sight
3-11-1 Ariake, Koto-ku, Tokyo (http://www.bigsight.jp/english/)